Remember – FREE Support On All Products Sold For Life.
Yes Really – FREE Support For Life!
As part of our free Tech Support services, we use Chrome Remote Desktop for remote login access and computer control
How to set up Chrome Remote Desktop for remote support in macOS.
Ask the person needing assistance to open Chrome, and to access the site remotedesktop.google.com/support in the browser.
If necessary, they need to sign into the service using their Google Account.
On the Chrome Remote Desktop site, click Remote Support near the top. Click the download arrow next to Get Support to bring up the Chrome Web Store.
Click Add to Chrome to add the extension to the browser. Click Add Extension on the pop-up box.
Select where to save the extension installer, and click Save.
In Chrome again, in the Ready to Install box, click Accept & Install. Click Yes to open the download, then open Chrome Remote Desktop Host within the Finder window.
Follow the installer through the process. Click Continue, then select where to install the host software if necessary, then Install.
Enter the Mac account's password and click Install Software.
Click Close once the installer has completed.
Once it is installed, you should be in a position to ask them to generate a code for support, which you will need to establish a connection. The first time this is done, they will be asked by macOS to grant permissions, which again is only for the initial instance.
 > System Preferences > Security & Privacy > Privacy Tab > Accessibility Option (unlock the lock at the bottom left of the screen)
How to generate a code for remote support in Chrome Remote Desktop for macOS, the first time.
Open Chrome and access the site remotedesktop.google.com/support. Click Remote Support.
In the box marked Get Support, click Generate Code.
For the first time of going through this, you will have to grant permissions to Chrome Remote Desktop. Click Open Accessibility Preferences.
Click the padlock and authenticate with the Mac.
In the right-hand list of apps, tick next to RemoteAssistanceHost.
Click Next in the Grant Permission window.
A Screen Recording popup will appear. Click Open System Preferences.
If necessary, click the padlock again and authenticate.
In the right-hand box, tick next to ChromeRemoteDesktopHost, then click the padlock to lock it.
In the pop-up, click Ok.
In Chrome, click Generate Code.
For the second and subsequent code generations, this process is much shorter. It becomes a case of going to that Get Support box and clicking Generate Code.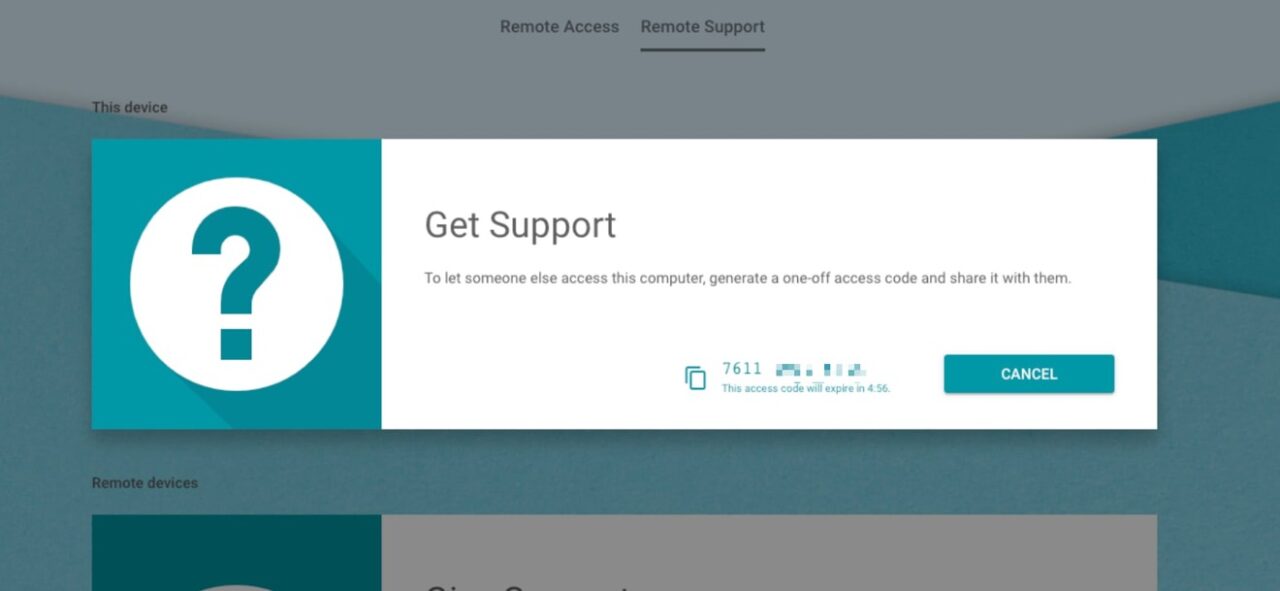 The code will be active for five minutes and has to be used to establish a connection before timing out. As it is 12 numbers long, it could be read to you over the phone, or copied and pasted into an email.